UTAH CARRY PERMIT with OnSight Firearms Training
November 10, 2018 @ 8:00 am

-

12:30 pm
Howell's is pleased to host OnSight Firearms Training for the highly requested UTAH CARRY PERMIT course!
This permit allows non-residents of Utah to be able to carry a concealed handgun in Utah as well as the other 30 states that will recognize this permit.
This is the ideal permit to have if you travel to different states.
As a Maine resident, the Utah permit is good in: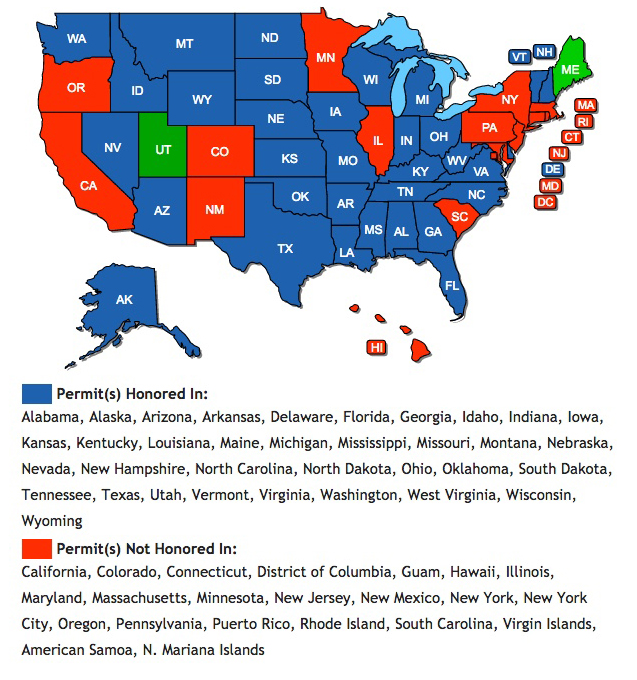 Course fee: $125.00
This class includes your passport-style photo, finger prints, and the pre-addressed envelope. All you have to do after you attend the course is put all of the paperwork from the course, along with a copy of your driver's license, and a check for $62.00 made out to Utah BCI, in the envelope and send it all off in the mail!
The course fee DOES NOT include the processing fee for Utah. 
A handgun permit is not required to apply for the Utah Non Resident permit.
Requirements:
1. Applicant must be at least 21 years of age
2. Proof of good character…whereas the applicant;
a. has not been convicted of a felony;
b. has not been convicted of any crime of violence;
c. has not been convicted of any offense involving the use of alcohol;
d. has not been convicted of any offenses involving the unlawful use of narcotics or other controlled substances;
e. has not been convicted of any offenses involving moral turpitude;
f. has not been convicted of any offense involving domestic violence;
g. has not been adjudicated by a court of a state or of the United States as mentally incompetent, unless the adjudication has been withdrawn or reversed.
All you need to bring to class is a black pen. In about 60 days you should receive your permit (as long as you have no disqualifiers).
**This is not a live fire class.**
NO FIREARMS ARE REQUIRED
AFTER THE UTAH CLASS: Information for private & group shooting lessons, Connecticut, Florida, New Hampshire, Arizona, Virginia, Maine, Massachusetts, and Pennsylvania non-resident permits, and NRA Certificates is also available.
For more info contact: onsightfirearmstraining@gmail.com or visit www.onsightfirearmstraining.com
Related Events